Church of the Little Flower is blessed to be able to minister to around 1,100 Catholic families, almost 3,000 parishioners. We serve the southeast corner of Springfield.
Brief History of Little Flower Parish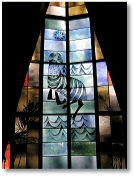 In 1946, the Bishop of the Diocese of Springfield-in-Illinois notified Reverend Raymond O'Connor, who was then the Chaplain of St. Joseph's Home for the Aged, to begin to build temporary quarters for the new Church of the Little Flower. In 1947, the "Quonset Church" was erected. This new type of pre-fab building was a result of the limited supply of building materials from the just-ended World War II. This "temporary" home for the church lasted until 1963 when the construction of the new church was completed.
The most obvious need of the young parish family (during the first twenty years of the parish, 2,300 baptisms were performed, whereas burials were less than 200) was to build a permanent school. The first school section was completed in 1948 with five rooms for K-8 grades, offices and a cafeteria.
The plans and design for the new church were created with input from the parish family that came together in the intimacy of the "Quonset Church." Interestingly, the construction of the new church was finished before Vatican Council II but marked the beginning of bringing people closer to the altar and making participation in the liturgy more personal and meaningful.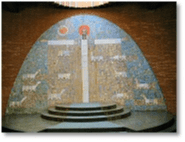 The sanctuary ceramic mosaic mural is an artistic presentation of the Good Shepherd and His flock. Created by artist Robert Harmon, it is composed of over 4,000 pieces of ceramic tile, individually shaped, tinted, fired and made composite. The sheep represent all nations, races, and peoples. A lost sheep is draped over the shoulders of Christ.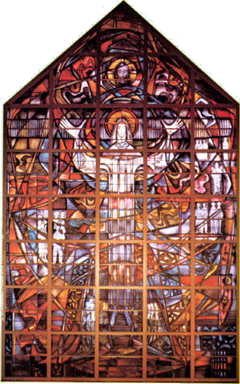 Harmon also designed the main window of the church devoted to St. Therese, the Little Flower. The glass is from Germany with the primary colors and stains of glass so variegated by firing, it produces more than a thousand tints and hues. The placement of the window is such that it is seen by worshipers as they are leaving the church. Its placement is purposeful because, according to Father O'Connor, "beauty like grace should reward the searcher."
The First Mass was offered on Sunday, June 30, 1963, the same day as the coronation of His Holiness, Pope Paul VI.